David's photograph captures one of the swollen, debris filled creeks at Hillingdon, which was ravaged by the force of heavy rainfall.  Through his lens, David vividly reminds viewers that water is an extremely powerful natural resource. Moreover, too much rain can be just as devastating to ranching, sometimes more so than drought. Likewise, the recent episodes of flooding added extra financial and labor costs to the Gileses' already challenging work load.
First, internal parasites thrive in a moist, humid environment, whereas lack of rain actually decreases their prevalence.  So, the extended rainfall at Hillingdon created prime conditions for these worm-like creatures to flourish and infect the animals. Since high water prevented the Gileses from reaching all of the livestock in time, some animals were not medicated to prevent worms. As a result, the Gileses lost more livestock due to stomach infections than they did during the drought. Likewise, they faced additional fees for medication and veterinary care.
High water also created a sense of anxiety for the livestock, and many of them were afraid to follow normal routines. Interestingly, moving animals closer to water sources during the drought was easier for the Gileses than coaxing them out of hiding during flooding.  Along those lines, many of the livestock were afraid to cross the creek, so the Gileses spent additional time re-routing the animals, helping them out of mud, or encouraging them to move when they were increasingly stubborn.
Lastly, heavy rainfall washed out more than 85 water gaps at Hillingdon.  So, the Gileses spent additional labor making all of the repairs, which added additional stress to their already hectic schedule. Regardless, the Gileses have an amazing work ethic and lifetimes of experience dealing with troublesome issues resulting from environmental conditions like drought and flooding.  Lastly, their keen ability to strategically problem solve during times of high threats to livestock is also a great model for the entire ranching community.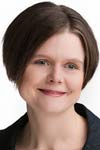 Blog written by Amy Clark-Guajardo.  Amy Clark-Guajardo, M.S., is the great-great-granddaughter of Annie Laura and Alfred Giles, founders of Hillingdon Ranch.  She is the great-granddaughter of Beatrice Giles Dreiss, and the granddaughter of Alfred Giles Dreiss, who before he passed away, ranched in partnership with Robin Giles. Robin and David K. Langford are Amy's cousins and are part of her extended family that lives on Hillingdon Ranch. Even though Amy currently resides in Denton, Texas, she is excited to share her childhood memories of living at Flat Rock (the area of Hillingdon closest to Comfort) and visiting the Gileses often.
PHOTOGRAPHER'S NOTES
by David K. Langford
The specifics
Camera body: Canon EOS 7D
Lens: Canon EF 28-300mm f/3.5-5.6L IS USM, zoomed to approximately 60mm.
Settings: ASA = 200; Aperture preferred, f 8, shutter speed = as auto-selected.
Other: Tripod, auto focus on; stabilizing on; available light, no filter.
The story
All the images in this book were taken beginning a couple of months before the start of 2011, and ending at Texas A&M University Press's production deadline a couple of months into 2012. These seventeen months of shooting included the drought of 2011, which was the driest seventeen-month duration in the history of the ranch. Even so, we did have one flood event. One brief, VERY heavy downpour lasting several hours.
Toward the end of the day, it began to look as if the rainfall might be letting up a bit, maybe even ending. So, I loaded up in my old truck, put it in 4-wheel drive, and headed out into the mud. The destination I had in mind was the junction of Block Creek and Chalet Creek. When I got there, both were raging. The day before, both had been totally dry! Block Creek is the main creek in the image, with Chalet Creek coming in from the left. It's hard to tell which is which, as both were out of their banks.
Nearing sundown, still sitting in my truck, I began watching the sky to the west. If you were to fully extend your arm, make a fist, and hold it up to the sky just above the horizon, that's about as big a break in the clouds that it seemed might be appearing soon. I got out of the truck and quickly set up my tripod, attached the camera (covered with a waterproof stuff-sack), and got ready just in case the sun happened to break through that one small opening in the storm's heavy overcast.
About one minute later, sure enough, I could tell that it might actually happen. So I pulled off the stuff sack, checked my settings, looked through the viewfinder, composed the image – all in just a few seconds – and it happened. The sun broke through, and bathed this flooding scene with its beautiful light. I shot ONE image, and in the next moment, the sun disappeared back into the dark, dense clouds. This situation and the resulting image again highlights my Number One recommendation to budding photographers: be there, be ready, and be familiar enough with your equipment to react instantly. Sometimes Lady Luck only gives you a couple of seconds to either succeed or fail. Be ready to succeed.
Here's one more comment on the essence of Amy's wonderful description of what floods can mean to ranchers. Rain is always welcome, even when it can mean lots of extra work.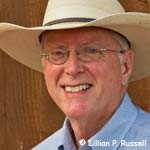 Photographer's Notes are written by David K. Langford, photographer and co-author of the book, Hillingdon  Ranch: Four Seasons, Six Generations.  Click here to read David's full bio.
Purchase "Swollen Block Creek"
Subscribe to Blog via Email