Before the age of three, I would ask my mother, "Where are Robin, Carol, and the shearers?" At that time, my grandfather had recently passed away. Even in the midst of my sadness, I was always excited to see the Gileses, and I knew they were all coming at shearing time. Since Robin was my grandfather's best friend, I often heard stories about him when spending time with the Gileses.
Through David's lens, I re-live scooping mohair into a cardboard box, and then handing it up to Carol to grade. Through this image, I can almost hear the sound of the goats "ba-a-a-ing," the shearing rig buzzing, and the anxious hoofs stomping the ground. Similarly, I look back in awe when Robin was shearing, because he was fast and completely focused on moving through the goats.
When I was only six years old, I felt timid seeing the shearers wrangle goats, tie their feet together to prevent injury, and begin clipping each goat's mohair. Almost every shearing day, one of my favorite shearers would tell me stories about my grandfather and how much he was missed by everyone. So, I tried to pick up his mohair; that way, I could remember my grandfather at the same time. I knew he was proud of me for working hard.
In David's photograph, the burlap sacks hanging from metal rims also bring back memories of standing in that huge sack, stomping as mohair was dumped into them. This was done so the mohair would be compressed in the sack, thereby holding enough. Since the kid hair was the softest, I liked that sack the best, even though there were not always enough kid mohair to fill a sack quickly. The downside was that I would stomp the same sack for hours waiting for the hair level to rise. Even so, I was willing to do my part of the work.
At such a young age, I was definitely impacted by the Gileses' unwavering work ethic and skill in ranching operations during shearing. Although the labor was intense and the days were long, the experiences were unforgettable.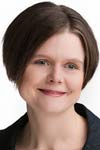 Blog written by Amy Clark-Guajardo.  Amy Clark-Guajardo, M.S., is the great-great-granddaughter of Annie Laura and Alfred Giles, founders of Hillingdon Ranch. She is the great-granddaughter of Beatrice Giles Dreiss, and the granddaughter of Alfred Giles Dreiss, who before he passed away, ranched in partnership with Robin Giles. Robin and David K. Langford are Amy's cousins and are part of her extended family that lives on Hillingdon Ranch. Even though Amy currently resides in Denton, Texas, she is excited to share her childhood memories of living at Flat Rock (the area of Hillingdon closest to Comfort) and visiting the Gileses often. 
Photographer's Notes
by David K. Langford
The specifics
Camera body: Canon EOS 7D
Lens: Canon EF 24-105mm, f/4L IS USM
Settings: ASA = 200; Shutter preferred, 1/30th; f-stop, as auto-selected, usually wide open.
Other: Hand held; auto focus on; stabilizing on; available light, no filter.
The story
As usual, this is another of those images where everything has to fall into place to capture as much of the full story as possible in one frame. The light, being generally uneven, can be problematic, but this time the result is fine. Further, every shearer's action and body position has to be just so, the goats have to be peaceful and cooperating, with Robin and Carol noticeably in action up at the grading station. And the handing-up of the box of just-sheared mohair has to be in a relevant position that conveys action.
Over the last few decades, the shearing crews have been slowly disappearing as the industry requiring their skills is steadily lost in America. When I was young and small, and also stomping wool and mohair into those huge bags, there were crews all over, lots of them. Another cousin and I talked, wishingly, a couple of decades ago about doing a book on the shearers. The faces and hands of the men on the crews spectacularly reflected lifetimes spent dedicated to the art of their skills. Their individual and family stories were historical. But life interfered with those plans, and we did not even begin the attempt. Starting nowadays, though, would be too late. Except for a very few, they are all gone.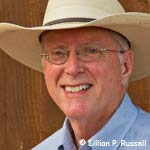 Photographer's Notes are written by David K. Langford, photographer and co-author of the book, Hillingdon Ranch: Four Seasons, Six Generations.  Click here to read David's full bio.
Purchase the photo, "Lost Art"
Subscribe to Blog via Email