Texas Parks & Wildlife's 2015 Texas Private Lands Calendar Released
With Text and Photographs From the book Hillingdon Ranch: Four Seasons, Six Generations
Comfort, TX– Texas Parks & Wildlife has released their 2015 Texas Private Lands Calendar with text and photographs from Hillingdon Ranch: Four Seasons, Six Generations which chronicles how one family has worked together over many years to keep their ranch intact.  "We are pleased to feature the work of widely respected nature, wildlife, and western-image photographer David K. Langford and writer Lorie Woodward Cantu, a highly sought after communications expert specializing in agriculture and natural resource issues," writes Linda Campbell, Program Director of Texas Parks & Wildlife's Private Lands and Public Hunting Program.
The calendar features photographs from the book that tell the story of a ranching family and their life in the Texas Hill Country.  Through images, quotes, and beautifully written text, the authors share what private lands stewardship means to the rest of us: food, fiber, clean air, wildlife, healthy land, peace and quiet, and perhaps most important of all, clean and plentiful water. Included in the 16-month calendar are tips for managing wildlife habitat and the dates for the 2014-2015 hunting seasons.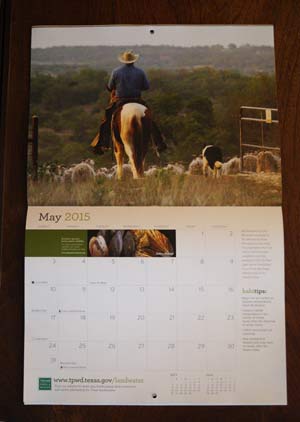 "It is a great honor to be the photographer for this year's Texas Parks & Wildlife Private Lands Calendar," says David K. Langford. The families of the Hillingdon, Leslie, and Laurels ranches were recognized this year by TPWD as Lone Star Land Steward Award winners for their exemplary land stewardship, outreach, and volunteer service. Langford says, "stewardship needs stewards!"
The calendars were published for distribution to private landowners.  If you are a landowner and would like to request a copy of this calendar, please contact Nancy Gillespie at (512) 389-8119.
###