In his iconic photograph, David captures two generations of Gileses herding sheep at Hillingdon. Amidst the backdrop of gorgeous trees and light simmering through tall grass, Robin and Grant ride together with their helpers close behind.  Instantly, I flash back to seeing Grant with his father as a little boy.  Through years of quality time spent with Robin, Grant is now an amazing rancher too.
Some of Robin's greatest attributes include his ability to lead, teach, and inspire people. Essentially, he models the skills necessary to ranch effectively, and he lives by his values and principles. For example, Robin is present in the day to day operations of his business like he is in this photo. By consistently modeling the value of hard work, Robin has inspired Grant to be the great rancher he is today. One work day at a time, Robin has successfully passed down his beliefs to the next generation.
David's photo is not only picturesque, it is also characteristic of the time and attention Robin has paid to ranching over several decades.  Through his stewardship, Robin has motivated Grant to embody his values. Seeing them ride together in this photograph is a testimony to Robin's ranching legacy and the great work the Giles family will carry out in the future.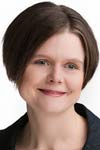 Blog written by Amy Clark-Guajardo.  Amy Clark-Guajardo, M.S., is the great-great-granddaughter of Annie Laura and Alfred Giles, founders of Hillingdon Ranch.  She is the great-granddaughter of Beatrice Giles Dreiss, and the granddaughter of Alfred Giles Dreiss, who before he passed away, ranched in partnership with Robin Giles. Robin and David K. Langford are Amy's cousins and are part of her extended family that lives on Hillingdon Ranch. Even though Amy currently resides in Denton, Texas, she is excited to share her childhood memories of living at Flat Rock (the area of Hillingdon closest to Comfort) and visiting the Gileses often.
PHOTOGRAPHER'S NOTES
by David K. Langford
The specifics
Camera body: Canon EOS 7D
Lens: Canon EF 28-300mm f/3.5-5.6L IS USM, zoomed to approximately 100mm.
Settings: ASA = 200; Shutter preferred, 1/250th; f-stop, as auto-selected.
Other: Hand-held, auto focus on; stabilizing on; available light, no filter.
The story
"Edges of light fascinate me. I search for perfect light, then hunt for something earthbound to match it with." Galen Rowell, from his book Mountain Light, published by Yolla Bolly Press, in 1986.
Galen Rowell died in a tragic accident in 2002, however his photography remains an inspiration for my own. In addition to following his method of searching for light, I often do the opposite, finding the earthbound subject and waiting for the perfect light to arrive. Sometimes that light appears on cue. Other times, it just never shows up. And sometimes something completely unexpected happens, no matter how much planning is put into an image. Such was the case with this one.
It's about four or five miles from the Flat Rock working pens to the main shearing barn. When this bunch was scheduled to be sheared, I arranged with the Gileses to move them from the pens to the shearing barn very late in the day. I had hoped to be positioned at a certain spot, illuminated by those beautiful last rays before sundown, and have the sheep coming at me with the horses, riders, and the dogs in the background. But trailing along behind, waiting for my chance to get up in front of everyone, this image presented itself.
As I have written about before, it's a good thing I'm accustomed to working fast, as the pace of the animals would mean that all the elements of this photograph would have been gone in just a few seconds. I shut the engine off as I jumped out of my truck, steadied myself against the front driver's side fender, made sure the settings were OK, and hit the shutter a few times. My first thought as the moment had passed so quickly, was, "Did I get that???" Yes!
I still managed to get around in front and get the shot I had originally planned. It's really nice too, but it was not included in the book. It's great, but not like this one.
Once again, luck mostly happens only when you're ready for it.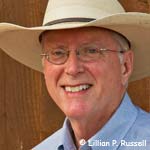 Photographer's Notes are written by David K. Langford, photographer and co-author of the book, Hillingdon  Ranch: Four Seasons, Six Generations.  Click here to read David's full bio.
Purchase "Headed to the shearing barn"
Subscribe to Blog via Email