David's work focuses on Grant herding goats downhill against the backdrop of the majestic Texas Hill Country landscape of Hillingdon Ranch. Through his lens, David captures Grant's position in the saddle, the way he holds the reins, the placement of his feet in the stirrups, the chaps he wears for protection from brush, and the spurs he uses to command his horse. Similarly, David's photo depicts the astuteness of Grant's horse, the alertness of his dog, and the willingness of the goats to obey the rancher and his helper.
Gazing at David's photograph, I am instantly reminded of the first time I herded goats with Grant's father, Robin, at Flat Rock. I was less than 10 years old, and I was thrilled at the opportunity to spend the day with Robin. I had only been riding my horse for a few years, and I was completely unprepared for the excitement that ensued.
We were looking for the goats in the upper pasture, and we would bring them back toward the Flat Rock pens. So, we rode uphill in our search. We went across a flat stretch approaching a steep, heavily-treed downhill slope. In an instant, Robin spotted the herd, and he sent his horse down the hill at lightning speed. Without direction, and much to my dismay, my horse followed suit at a sprint. As my horse was running, I felt terrified that she would fall and we would hit a tree. The gorgeous landscape suddenly felt treacherous.
As my life was flashing before my eyes, I tried to remember to lean backwards, keep a firm grip of the reins, and brace myself in the stirrups. Needless to say, I realized that Robin had amazing skills on horseback. Without a doubt, Robin trusted his horse, his riding abilities, and his saddle to aid him in hazardous circumstances. Furthermore, I was suddenly fully aware of the risks Robin assumed everyday as he ranched. Lastly, his skill level was the result of years of hard work and determination. In essence, I was thankful for his willingness to keep the ranching business afloat, even if the work was potentially dangerous.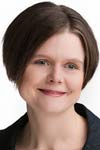 Blog written by Amy Clark-Guajardo.  Amy Clark-Guajardo, M.S., is the great-great-granddaughter of Annie Laura and Alfred Giles, founders of Hillingdon Ranch.  She is the great-granddaughter of Beatrice Giles Dreiss, and the granddaughter of Alfred Giles Dreiss, who before he passed away, ranched in partnership with Robin Giles. Robin and David K. Langford are Amy's cousins and are part of her extended family that lives on Hillingdon Ranch. Even though Amy currently resides in Denton, Texas, she is excited to share her childhood memories of living at Flat Rock (the area of Hillingdon closest to Comfort) and visiting the Gileses often.
PHOTOGRAPHER'S NOTES
by David K. Langford
The specifics
Camera body: Canon EOS 7D
Lens: Canon EF 28-300mm f/3.5-5.6L IS USM, zoomed to approximately 200mm.
Settings: ASA = 200; Shutter preferred, 1/125th; f-stop, as auto-selected.
Other: Hand-held, auto focus on; stabilizing on; available light, no filter.
The story
Amy's description of her first downhill run on horseback to turn a bunch of runaway livestock toward the direction you wish them to go brought back some frightening moments for me too! My cousin Robin Giles is only a few months younger than I am. We were a couple of the eldest kids of our vintage who spent much of our youth working on the rangelands of Hillingdon during the ending of the "screw-worm years." Lives during the months between Easter and Thanksgiving were largely centered around dealing with the problems associated with this maggot and its parent fly. (For more detailed information on screw-worms, see: http://en.wikipedia.org/wiki/Cochliomyia )
Screw-worms' impact on the lives of wildlife, livestock, and humans is almost unimaginable to those who did not live during those times. Even the tiniest amount of blood attracted the fly, which lay its eggs in wounds, and then, without treatment, the maggots hatched and proceeded to consume its host alive. Umbilical cords were a prime attractant. Livestock had to be inspected regularly, every week, sometimes more often. Those with worms had to be "doctored" daily. Consequently any animal with worms had to be caught and brought to a "hospital trap," a small, easily accessible pasture close to the house. Riding, roping, and all the cowboy skills were essential, for those of any age and gender. Good horses were an absolute necessity, and effective herding dogs even more so.
Almost impossible to understand is the effect on wildlife populations, especially the white-tailed deer. As a kid being mentored into deer hunting in the years immediately following WWII, it was worthy of in-depth discussion around the campfire to have seen a deer! Screw-worms killed most of the newborns, and virtually any adult with the most minor of scrapes. Now, of course, the Hill Country is wildly overpopulated with whitetails, as is most of Texas. A primary reason for this is the eradication of the screw-worm fly, a process described in the link above.
And those humongous roller coasters featured in some of today's theme parks have almost, but not quite, replaced the terrifying downhill horseback runs chasing after a bunch of big, strapping mutton goats.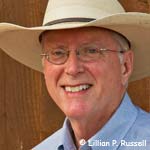 Photographer's Notes are written by David K. Langford, photographer and co-author of the book, Hillingdon Ranch: Four Seasons, Six Generations.  Click here to read David's full bio.
Purchase the Photo, "Ensures"
Subscribe to Blog via Email