In his stunning photograph, David captures a well-trained border collie diligently managing the goat herd. Through his work, David highlights the integral role dogs play in the ranching operation at Hillingdon. Similarly, the Gileses take great care to make sure that these "helpers" execute commands with precision.
On several occasions, Robin passionately described the importance of selecting the right type of ranching dogs. Similarly, he explained that border collies were originally bred by shepherds in Great Britain almost three hundred years ago. In addition, they were genetically designed to be intelligent, highly trainable, and athletic.
Because Hillingdon's ranching business is family owned and operated, the Gileses rely heavily on their helpers. Since so much time is invested in their training, there are high expectations for the work load and productivity of these ranch hands. For example, Robin once told me that he would have replaced a dog that was less motivated than the others except she was the fastest at executing the command to retrieve a stray goat and redirect it back into the herd.
Because of their friendship and ranching partnership, Robin can attest to the remarkable bond my grandfather had with his dogs. He not only considered them employees, but also considered them companions. For example, my grandfather had a helper that would go out alone at night and round up goats over nearly 200 acres with just a single command to "go get your goats." When the dog passed, my grandfather was truly saddened and thought of her often.
David's photograph illuminates the way that dogs serve as ranch hands at Hillingdon. By utilizing these helpers, the Gileses manage labor costs and promote efficiency in their business. Lastly, Robin, Carol, Grant, and Misty embody skill in ranching and expect nothing less from their dogs, which are with them day in and day out.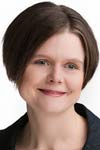 Blog written by Amy Clark-Guajardo.  Amy Clark-Guajardo, M.S., is the great-great-granddaughter of Annie Laura and Alfred Giles, founders of Hillingdon Ranch.  She is the great-granddaughter of Beatrice Giles Dreiss, and the granddaughter of Alfred Giles Dreiss, who before he passed away, ranched in partnership with Robin Giles. Robin and David K. Langford are Amy's cousins and are part of her extended family that lives on Hillingdon Ranch. Even though Amy currently resides in Denton, Texas, she is excited to share her childhood memories of living at Flat Rock (the area of Hillingdon closest to Comfort) and visiting the Gileses often
PHOTOGRAPHER'S NOTES
by David K. Langford
The specifics
Camera body: Canon EOS 7D
Lens: Canon EF 28-300mm f/3.5-5.6L IS USM, zoomed to approximately 150mm.
Settings: ASA = 200; Shutter preferred, 1/125th; f-stop, as auto-selected.
Other: Hand-held, auto focus on; stabilizing on; available light, no filter.
The story
This is one of many, many examples where proper planning would have been for nothing, except for the best luck at absolutely the last minute. We had set up for me to be in the Wilson Pasture's working pens, and have Grant and the dogs bring the goats in from the big pasture, directly toward me, and into the pens. I'd have a chance to start shooting when the action was 300-400 yards away, continuing all the way to right in front of me, standing a few yards inside the east gate. I would be afforded several minutes of action to get what I was looking for. It was a perfect setup, or so I thought. We began the process just a few minutes before sundown so I could take advantage of the great evening light. All went as planned, except I knew when the goats finally began coming through the gate that I did not have the image I had pre-visualized. Disappointed, and knowing there was no time (or inclination!) to push the herd back out into the pasture, and then bring them back in again, before we would lose the light, I started walking toward my truck. As I reached the north gate to exit the pens, I turned around for one last look. And there it was! Not what I had planned, but much, much better. Shooting almost directly into the setting sun, there was the beautiful golden glow, the goats, and the dog. Luckily my career of photographing wildlife, nature, and ranching has prepared me to react quickly. If you have to fumble around with settings and decisions in those photographic disciplines, more often than not, you'll miss the shot. Nature, particularly wildlife, any animals really, even pets, don't wait for you to get set. You have to be at-the-ready, almost always. Look. See. Eye to viewfinder, finger on shutter. Frame the scene, being sure of the settings. Hit the shutter. One shot. Done. All in a split second. Instead getting into my truck with nothing, luck had prevailed again!
Just like Amy, many memories come into my mind every time I experience the herding dogs working. On my grandparents part of Hillingdon, the foreman always had a great dog. Recall the Photographer's Notes accompanying Amy's previous blog, in which I described how it was growing up helping on the ranch during the screw worm years. I'm not sure we would have had any livestock survive without the help of great herding dogs. The best and smartest was I.E. Clubb's dog, Ring. There's no doubt in my mind that Ring read short stories and wrote poetry at night when all his human companions were asleep.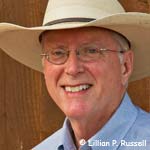 Photographer's Notes are written by David K. Langford, photographer and co-author of the book, Hillingdon Ranch: Four Seasons, Six Generations.  Click here to read David's full bio.
Purchase the Photo, "Valuable"
Subscribe to Blog via Email